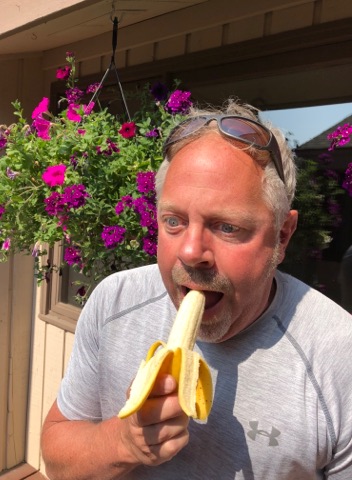 The focus of this blog series has been stress. We are attempting to make a distinction between the life sucking Chronic Stress that will make us sick, injured, and depleted, and contrast this tragedy with the life giving, simple, strengthening effects of acute, short-term stress. That last sentence was a mouth full. Go back and read it again!
This is a classic story of a bonk. Bonking is a word used by endurance athletes when they run out of gas. Their sugar dries up and they are wiped.
I could not pass this one up:
This morning I was out at the lake with Annie the wonder dog, and I was plodding along deep in thought when I hear heavy footsteps and rock and roll music. I turned around and here is an adult man, running full-out, and doing a fine job of it. I stepped aside to let him pass. Secretly I was glad it was him and not me. There was a day and time a few years back when I thought this was a good and healthy thing to do. Time has changed the thinking around such activities. There is a big difference between being fit, and being healthy. Certainly this man was fit, but I would wager that he is not healthy. Keep reading. 
Close to the end of my short hike, he passed me again. Finding another gear and sounding like a freight train, away he went to a small parking lot where I too was parked.
Now I know that I have been writing as of late about the benefits of short-term acute stress and the need to court it, to seek it out on a regular basis. Don't be confused. This was not that. This appeared to be what I have also been writing about in the form of chronic stress, from a chronic exercise pattern.
How could I tell the difference?
I had the good fortune of reaching the parking lot at the same time as this, maybe, 40ish gentleman. He got into his car as fast as he could and got a banana, opened it and started shoving it down his throat. I recognized this immediately from a former life of exercising incorrectly. This man was Bonking. Hard. Chronic stress looks like this… if you need sugar immediately after you exercise, YOU HAVE EXERCISED IN A WAY THAT WILL LEAD TO DEPLETION, INJURY, SICKNESS AND DEATH. No workout should produce that type of a drop in blood glucose in a healthy person. The only workouts that produce this are ones that are repeated too often. This guy needs recovery.  And a different routine. The glycogen (a stored form of sugars that is present in the muscles and to a lesser extent, the liver) are there to prevent this type of blood sugar drop. When they cannot do this, because the body is under the chronic stress of over-training, the liver has to go to work and produce glucose out of proteins. Talk about a stressor! He'll spend the rest of the day trying to get his metabolism and blood glucose back in check and it will dominate him.
PLEASE AVOID THIS TYPE OF STRESS.
If this gentleman would do something like this, RECOVER FULLY and then do it again, his body would indeed reap the benefits of short-term stress, as we have been discussing.
Wait a minute there Dr. Swaim, you are making a pretty big assumption that this guy doesn't fully recover.
The banana was enough data to make that assumption. But the short conversation I had with him sealed the deal.
So I asked him, to be polite, how far he had just run.
"Only five miles."
Now don't get me wrong, running five miles is an impressive feat and does speak to a certain level of discipline. I applaud all that. It is the word "only" that got my attention. Obviously the implication is that this was not his most impressive workout. More draining and life depleting exercise is just around the corner.
Again, I applaud his determination and discipline.
But this man, for all his fitness, is ruining his health.
Chronic stress will kill you eventually. Most people just get sick or injured first, so the risk is still minimal. But don't make the error of confusing fitness with health.
I found myself wondering as I drove away what the rest of that man's day will be like; blood sugars all over the place and an energy level to match. Falling asleep on the job, crankiness, and irritability all come with the territory. More is not better. Better is better. Short-term, fully recovered, intense bouts of exercise are better, and healthier. So are long walks with your dog. Both are necessary and both produce health.
I learned this lesson the hard way years ago. I remember all the weirdness that comes with chronic exercise stress.  Ask Mrs. Swaim, she remembers too.
Cheers,
ks