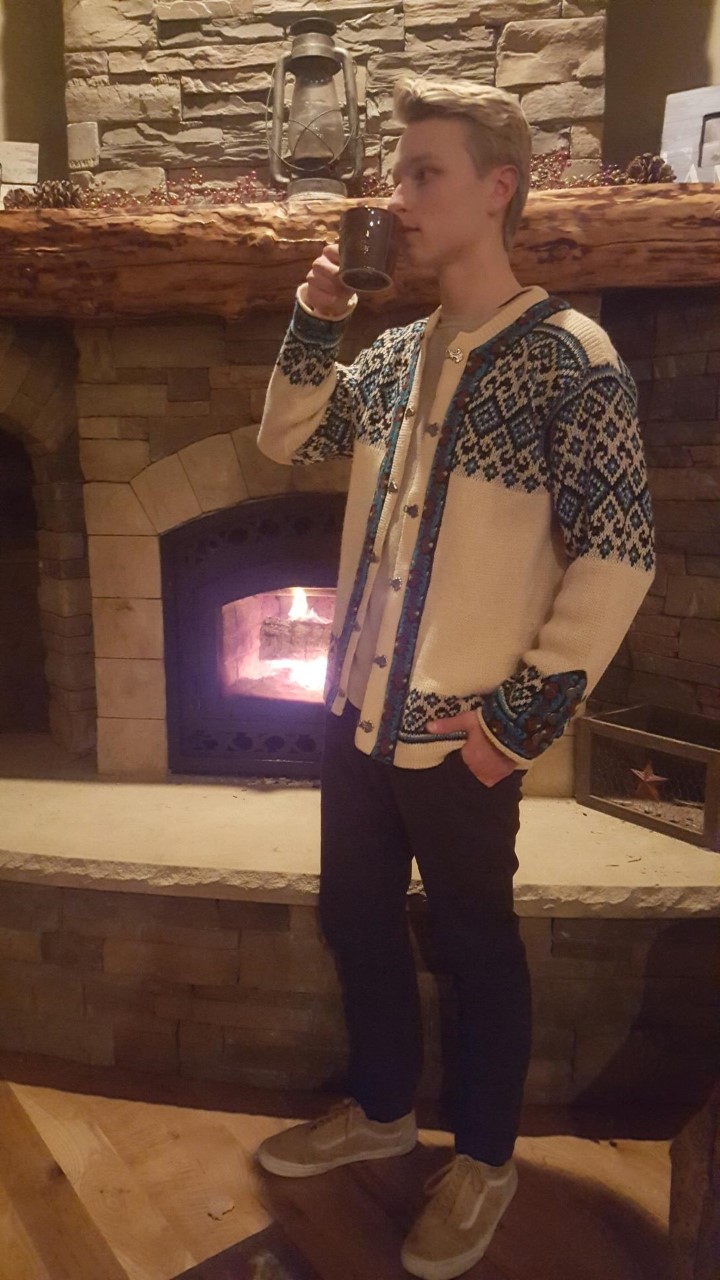 She seems to be everywhere, all of a sudden.
So, Marie Kondo, for those of you living on Jupiter, is a diminutive Japanese lady that is teaching us all to roll up our undies, clean-out our drawers (pun intended), and de-clutter our lives. Her message is apparently resonating because thrift stores are bulging with newly discarded inventory. Her thinking goes something like this: If an object brings you joy, then you should keep it. If it does not, then discard it. Joy or no joy, that is it. All the meanings we attach to our stuff, all the stories we tell ourselves about why we keep so much stuff, can go. Joy or no joy. Pretty simple strategy for cleaning up our lives. And a healthy one too.
Tuck that intro into the back of your mind and enjoy another self-indulgent tangent.
There is a point, I promise.
I love ski sweaters. The 100% wool kind made in exotic places like Iceland and Ecuador. This love affair began in the early 80's when I saved up my money and bought two ski sweaters for $100 apiece. Very impractical for a boy living in Central California. Winter lasts a total of about 21 minutes. It snowed once in 1968, when I was three. No real need for ski sweaters. But I saved and bought them anyway. I loved those sweaters. I still do. I still have them both. One was made in New Zealand from virgin wool.
During my recent convalescence, I found this really cool way to shop. It is called eBay. Perfect for the man who can't really get around too well.  And even more incredibly, you or I can shop for ski sweaters without ever leaving home! You don't have to go to Scandinavia to buy a sweater. You can sit on the couch with your immobile foot and shop for sweaters! What a wonderful world! Anyway, the love of the sweater got the best of me and before I knew it, I had bids on plenty of them.  And I won plenty of bids. And no, they were not all for me. In fact, most of them were not.
Matching a sweater to a person became a game. And sometimes I won, the right match with the right person, and sometimes I missed. The wrong size, etc.
Well I found this beautiful Norwegian-made sweater that was made in the 70's or 80's. It wasn't just made, it was crafted. A work of art. Cream color with these cool blue and green and black diamond thingies all over it. The stitching was extraordinary. It has these metal hasps that cinch it together, not some crummy zipper or buttons; hasps. All I could picture is some Norwegian dad, home from a hard day in the fjords, snowshoes outside on the porch, clad in his reindeer skin house slippers and this sweater, hasped together reading his Norwegian newspaper, by a blazing Norwegian fire, fresh Norwegian fish frying in the pan, and some strange strong clear Norwegian liquid in a tumbler next to him to help knock the edge off the long Norwegian winter. The picture of Norwegian domesticity! I'm telling you, this sweater unleashed the imagination.
I had my brother-in-law in mind when I bought it only to realize when it arrived that it would be not fit him. So, I began to wear it. I loved it. It was comfortable, warm, and I thought cool. I started speaking with a fake Norwegian accent, I was searching the internet for reindeer slippers. I figured I would just keep it, much to Mrs. Swaim's dismay.
So, I bravely wore it out of the house once. And yes, people would stare. I figured they were staring because of envy. Mrs. Swaim assured me that this was not the case. No matter.
I wore it to a high school basketball game. Upon entering the game, I encountered my buddy's son, Louie, and indeed his eyes lit up.
"Where did you get that? Now that is a sweater!" I don't really remember if he said this or not, or if I just heard this because I wanted to, but there was no mistaking that Louie knows a great sweater when he sees it.
Well I knew what I had to do. I had to give this sweater away.
Louie is a tall, good looking kid. He looks to be the beneficiary of all the Scandinavian genes available. He doesn't have a beard or the terrible table manners of an old school Viking though (unlike his dad). Just a domesticated primitive. The sweater builder, the craftsman, had someone like Louie in mind when he stitched it into being.
So, I gave it to him.
And the decision to let it go was not easy.
But the joy it gave me to let it go was the biggest surprise of all. I had no idea that letting it go would make the joy of giving increase exponentially.
Back to the intro.
Ms. Kondo advises to keep only the things that bring you joy. Well I am here to tell you that there is greater joy in giving away a thing that brings you joy.
Ms. Kondo's advice is sound and good and healthy. But what I just shared is healthier. Try it.
Give something away that brings you joy.
And prepare to be surprised.
Cheers,
ks
PS- And yes that is Louie in the header.